Registrations are now closed. For any more information please contact Jactina at

[email protected]
CONVERGE is the annual national conference for the First Nations media industry.
In 2019 CONVERGE returns to Mpartntwe, bringing media organisations from remote, regional and urban locations together on Arrernte country. CONVERGE is co-hosted by Central Australian Aboriginal Media Association (CAAMA) who will welcome delegates to Mparntwe/Alice Springs with a special event on Wednesday evening, 27th November.
Then, over two days at the DoubleTree, delegates will participate in professional development workshops, build collaborative relationships, determine policy direction for the future and hear from industry experts. The full program will be published soon.
CONVERGE Alice Springs culminates with the First Nations Media Awards on Friday 29th November, celebrating excellence across all areas of the First Nations media industry.
Two days conference $330 (GST Inclusive)
One day conference $220 (GST Inclusive)
Awards night $137.50 (GST Inclusive)
View the program here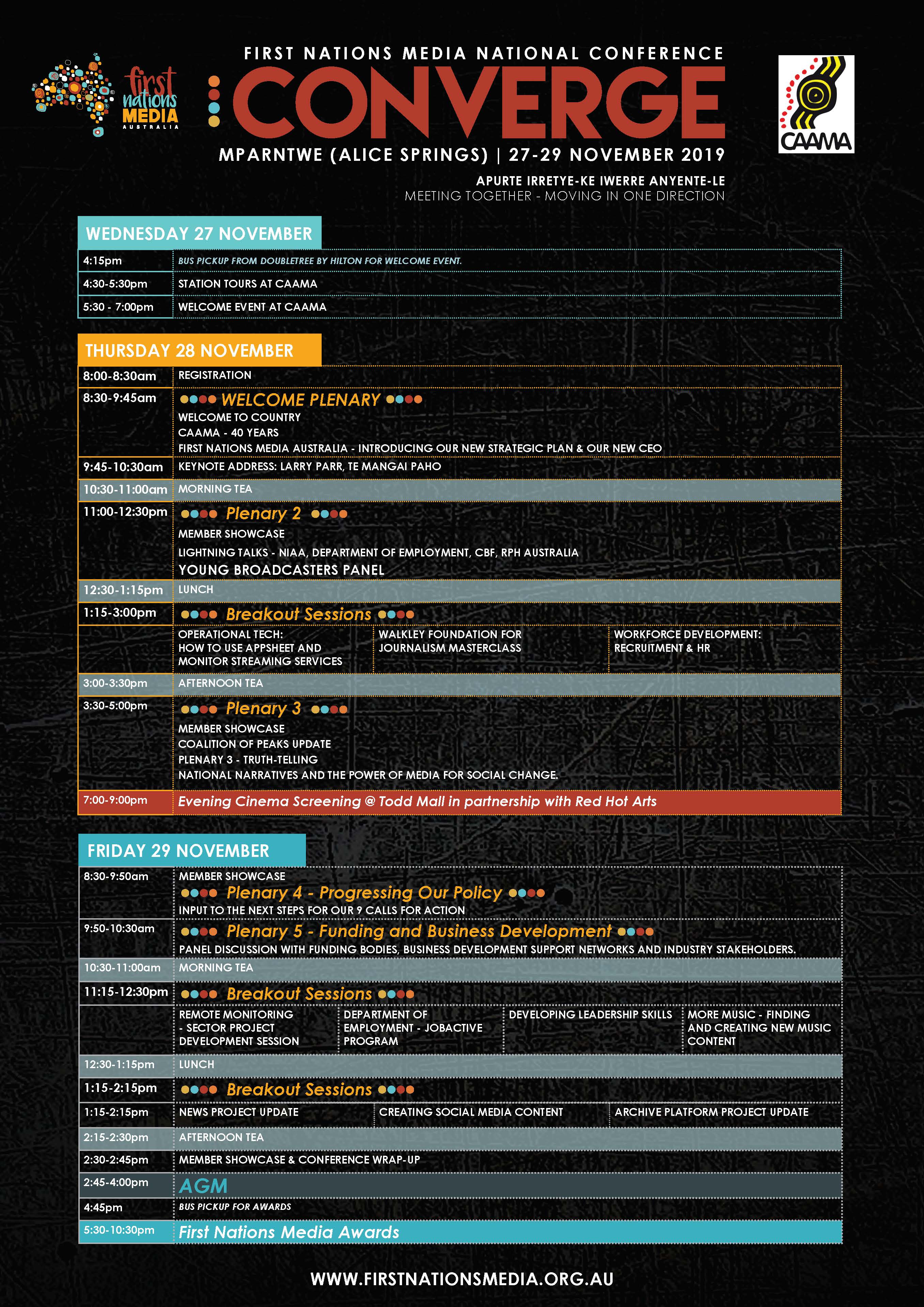 MORE INFORMATION
OPENING NIGHT
The opening night will be held on the evening of 27th November 2019 at Central Australian Aboriginal Media Association (CAAMA), CONVERGE co-host. A station tour, entertainment canapes and soft drinks will be provided. Transport from the Doubletree Hilton to CAAMA will also be available.
TWO-DAY CONFERENCE
On Thursday 28 and Friday 29 November delegates will CONVERGE at the DoubleTree on Hilton, Alice Springs to learn, share and plan. There will be a range of plenary discussions, hands-on workshops to develop new skills, forums and discussion groups, plus opportunities for networking and a Trade Hall. Full details will be announced in the program soon.
AWARDS NIGHT
The First Nations Media Awards Night will take place on the evening of Friday 29th November 2019. There will be entertainment, cultural dances, three-course meal and cash-bar. There will also be a bus pick up to and from the Doubletree Hilton. The awards location is located away from Alice Springs and driving at night is not recommended. Therefore we will provide transport to all delegates. Please be aware that this is an adult only event.
MAKING TRAVEL PLANS
Delegates will need to arrive in Alice Springs on Wednesday 27 November. If you are participating in a pre-workshop you will need to arrive on Monday 25 November 2019.
CONVERGE Alice Springs will finish with the First Nations Media Awards on Friday night (29 November). Delegates can travel home anytime from Saturday 30 November.
ACCOMMODATION
CONVERGE Alice Springs will be taking place the DoubleTree by Hilton. It is recommended that delegates stay at the hotel on site to avoid transport requirements, although alternate accommodation is available in Alice Springs. First Nations Media Australia has negotiated a discounted rate for conference delegates of $130 per night. Please note your attendance at CONVERGE when making a booking. Click here to book online.
DoubleTree by Hilton
82 Barrett Drive
Alice Springs
NT 0870
08 89508000
CATERING
Morning tea, lunch and afternoon tea will be provided at the two day conference.
PRE- WORKSHOPS
In addition to the two-day conference program for CONVERGE Alice Springs, we're offering a number of 1-2 day workshops in the lead-up to the event while people are travelling to Mparntwe/Alice Springs. These workshops are open to conference delegates who are able to get to Alice Springs a little earlier and or local media workers….
Tuesday 26-Wednesday 27 November at CAAMA
Tech for the Non-Technical
Presenter: John Maizels, Technorama
If you're not "tech" inclined, this can leave you feeling in over your head. This session aims to help you find out what you don't know, and leave you knowing just enough. It covers phones, studios, transmitters, OBs, air conditioning, and a heap more. Presented in conjunction with Technorama and the Community Media Training Organisation (CMTO).
You will learn:
- What the stuff in your station does
- How to identify, describe, document and catalogue the stuff that you have now
- How to identify future needs in terms of your strategic plan and your current stuff
- Basic technical skills that everyone in your station could develop
- How to do to problem determination, identify faults and call for help
- Tips on building a technology team
Tuesday 26-Wednesday 27 November at CAAMA
Digital Archiving
Presenter: Susan Locke
This 2 day workshop will cover video digitisation and digitisation workflows on Day 1, followed by using community viewing platforms for access to culturally appropriate content on Day 2. Led by Susan Locke of FNMA the workshop will give practical skills in preserving and providing access to First Nations archive collections.
Wednesday 27 November at DoubleTree by Hilton
Governance and financial management training
Presenter: ORIC
This is a one-day session focused on managing financial risk, financial oversight, good governance practice and ensuring your organisation meets its governance responsibilities. This course is best suited to Board members, CEOs, Station Managers and any senior members of staff with oversight of financial matters at your media organisation. It is open to all media organisations, not only those under the CATSI Act. Participants in this workshop are eligible for additional travel subsidy support for accommodation for one extra night in Alice Springs.
There is no cost registration cost associated with these workshops, but delegates will need to make travel arrangements to arrive in Alice Springs by Monday 25 November.


Travel subsidies are available to Ordinary and Associate Members thanks to the Community Broadcasting Foundation. Delegates who are attending the Governance with Office of the Registrar of Indigenous Corporations pre-workshop will also be eligible to apply for an additional $130 to allocate towards accommodation.