Registrations are now closed. If you have any queries please contact Jacinta at jacinta@firstnationsmedia.org.au.
The Remote Indigenous Media Festival returns to Kaurareg land on Waiben (Thursday Island) for the 20th celebration of remote community media, language and culture, co-hosted by the Torres Strait Islander Media Association (TSIMA), the voice of the Torres Strait.
This festival is a biennial industry event for building the capacity of the remote Aboriginal and Torres Strait Islander broadcasting, media and communications sector and celebrating their achievements. The 2019 Festival will create opportunities for producers, broadcasters, trainees and staff from all regions to network and share their knowledge, develop new skills and recognise achievements. It celebrates the unique value of remote community media for language and cultural maintenance, information sharing, meaningful employment and empowering communities through self-representation. It also provides a forum for the industry to address challenges and set new directions, and for supporters and stakeholders to gain the opportunity to engage with this valuable national network, connected to First Nations communities' rich and continuing history.
Each night we invite the Thursday Island community to join us to enjoy a showcase of screen content at the evening cinema, and to recognise the achievements of remote media workers throughout the year through the Remote Indigenous Media Awards. Plus there will be many opportunities to experience local culture with a fantastic opening ceremony, cultural excursions fitting in around the daily workshop program, and a closing night concert 'Torres Strait History through Song' organised by TSIMA.
Making travel plans
Delegates will need to arrive on Thursday Island on Sunday 22 September for registration.
Flights to Horn Island with a connecting ferry to Thursday Island will depart Cairns at 8:15am and 12:45pm on Sunday 22 September. For most delegates, this will mean staying overnight in Cairns on the way up.
Delegates who are required to stay a night in Cairns will need to arrange their own accommodation. Coordinated transfers to the airport on the 22 September will be available at the following accommodation:
To receive these discounted rate offers, quote First Nations Media Australia when you're booking.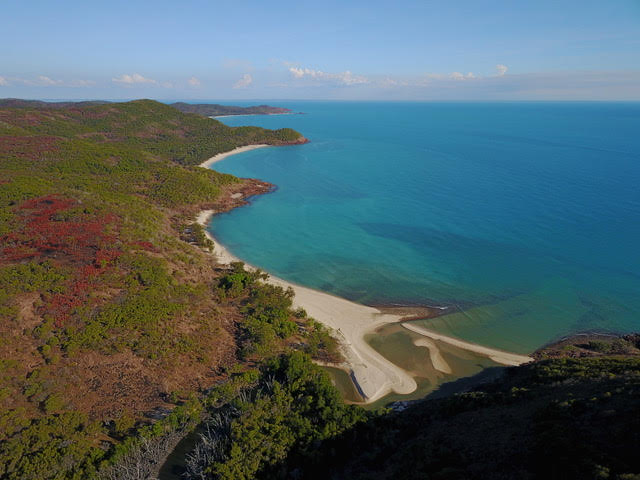 A limited number of reserved seats for connections to Thursday Island (including flight to Horn Island and ferry to Thursday Island) can be booked through our website as part of your registration at a total cost of $620 per delegate (return). We have made a bulk booking of all seats available to travel that day, but spaces will be limited so get in quick.
Alternately, if you plan to spend additional time in the Torres Strait, or attend the festival for a limited time, mid-week flights can be booked directly through Qantas or Skytrans and ferry transfers through Peddells or McDonald Charter Boats.
The festival will conclude with an evening concert and award presentations on Friday 27 September. Delegates should plan to travel back to Cairns and home on afternoon flights on Saturday 28 September or Sunday 29 September.
Limited travel subsidies are available to First Nations Media Australia Associate and Ordinary members to support travel to the Remote Indigenous Media Festival. The level of travel support will depend on the number of people seeking assistance. Please indicate if you would like to apply for a travel subsidy when you register.
Accommodation on Thursday Island
A campsite will be setup adjacent to the festival site at Tagai State College on the north side of the island. Delegates will be allocated the location of their tent, which will include a mattress and bedding.
This will be the most convenient accommodation for festival delegates for easy proximity to the main conference venue and catering.
For delegates who don't wish to camp, there is limited hotel accommodation on the south side of the island.
The recommended hotels offering discounted rates to festival delegates are:
Please advise our Events & Member Services Officer, Jacinta Barbour if you plan to book non-camping accommodation so that we can make transport arrangements for you on the island.
There is a very limited number of beds in shared rooms available at the Kaziw Meta Boarding House for delegates who are unable to camp. If you are traveling with delegates who have special needs (including elderly delegates) please advise Jacinta asap.
Workshops
There will be 6 workshop streams running throughout the week for delegates to choose from:
Cinematography with Devris Hasan, AFTRS
Podcasting with Tony Collins, CMTO
News reporting with Luke Pearson, CMTO
Digital Storytelling with Jan Cattoni
Digital Archiving with Susan Locke
Music production with Nigel Pegrum​
Delegates wishing to participate in the skills workshops can indicate 3 workshop preferences when registering for the festival.
Other events
A welcoming ceremony from Kaurareg Traditional Owners and dancers at the Gab Titui Cultural Centre will get the Remote Indigenous Media Festival started.
Throughout the week delegates can join the Thursday Island community at the nightly cinema, showcasing some of the best screen content produced in remote communities across Australia this year.
The Remote Indigenous Media Festival coincides with the Torres Strait Art & Dance Festival, so there will be plenty of activity around the island to check out.
Details of cultural site visits and the closing night concert will be published in the festival program closer to September.
Pricing
To help our Associate and Ordinary members attend the festival, these delegates only need to cover catering and camping accommodation.
All other attendees must pay a registration fee, plus catering and camping accommodation if you're staying on site.
Associate and Ordinary members:
$440 catering only
$605 catering and camping
+ $620 travel/transfers from Cairns to Thursday Island (optional)
All other attendees:
$825 catering & registration
$980 catering, camping & registration
+ $620 travel/transfers from Cairns to Thursday Island (optional)
For further information contact:
Jacinta Barbour
Events & Member Services Officer
08 8952 6465
events@firstnationsmedia.org.au
Click here to view sponsorship opportunities
>